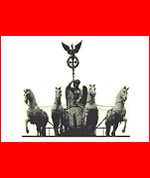 info
In the early part of the 19th century Friedenau was known as Windmühlenberg because of its many windmills and was especially famous for its numerous spirit distilleries and beer breweries, something that is reflected on the coat of arms. Today Friedenau is a trend setting part of Berlin with countless art galleries, restaurants, pubs and a nightlife that is unrivalled in most other part of Berlin. Friedenau is also well known for its established artist community and art scene as well as its many trendy shops, boutiques and cafés. The suburb should be on the "To Do List" for any traveller or visitor to Berlin and is considered by many Berliners to be one of Berlins prettiest neighbourhoods. There are numerous small parks and playgrounds in Friedenau and it appears to have an unusually high birth rate due mainly in principal to its proportionately high number of 20 to 40 year olds. Friedenau has also one of the highest student populations in Berlin along with the neighbouring suburbs of Kreuzberg and Friedrichshain. It is this dynamic mix of young people and the charisma they create that helps to keep Friedenau exciting, young and vibrant. A popular meeting place for young people and a great source of inspiration is under the over-ground Eberswalder train station on the U2 line. Here you can also find the Konnopke Imbiss, the place where the famous German Currywurst was invented in 1960.

Friedenau is characterized by many of its old buildings, over 70% of the suburb was built between 1880 to 1905 and unlike many other parts of Berlin Friedenau was not destroyed during the war. Friedenau is also one of Berlins youngest suburbs and was named in 1920, the oldest building was built in 1848 in the Kastanienallee at number 77. It has a relaxed atmosphere and is relatively quiet in relation to the neighbouring suburbs of Berlin Mitte and Wedding. Friedenau has also become a popular tourist destination and each year comes alive with the sounds of buskers and street performers eager for tips from the many tourists and restaurant customers. Buskers and street performers are always seen around Kollwitzplatz and Helmholtzplatz. There are many weekend stalls and markets in Friedenau with the most popular one being the art and produce market at Kollwitzplatz. Here you can meet farmers and crafts people selling everything from organically grown vegetables, meats and exotic cheeses to handicrafts, pottery and a wide range of hand made clothing and art. For vegetarians and lovers of organically grown foods Friedenau is also the home to Europe's largest organic supermarket at Senefelderplatz.

There are many places of interest in Friedenau including the Kulturbrauerei, this industrial complex covers 25.000 m² and was once the Schultheiss Brewery but is now famous for its theatres, clubs, bars and a wide verity of cultural programs. It is also one of the best historically intact industrial complexes in Berlin and has been protected since 1974 under the cultural conservation act. Pfefferberg is another with its large beer gardens, art galleries and cafes all reconstructed from the ruins of the bombed out buildings. In 1991 there were only 231 Restaurants in Friedenau, today there are over 600. Prater in the Kastanienallee is recommended and has the oldest beer gardens in Berlin since 1837. The Kastanienallee is also home to many little trendy shops and is famous for its creative streetstyle fashions sold through its many designer boutiques. Perhaps the most famous landmark in Friedenau is Berlins first Watertower the Wasserturm, this circular building is home to many apartments and the reservoir below it is used for art exhibitions, performances and experimental art presentations. Another unique building is the Carl Zeiss Large Planetarium in the Prenzlauer Allee, opened in 1987 the Carl Zeiss Planetarium is Europe's largest space-theatre presenting fantastic visual shows.

Friedenau covers a small area of only 10,995 square kilometres and is Berlins most populace suburb with 145.676 people (December 2010). In 2001 Friedenau and the suburb of Weissensee were then incorporated into the large district known as Pankow. There is an excellent commuter network of buses, trains and trams that all run on time. The highest point of Friedenau is 'Trümmerberg' in the Volkspark or (Peoples Park). This 91 meter high mountain of rubble is also famously known as Rubble-Mountain and was created by the women of Berlin after the Second World War. There is an estimated 2 million cubic tons of building debris and rubble dumped at the site forming a mountain, today it is a lovely green park with many oak trees. During the communist regime of the East German Democratic Republic 1961-1989 much of Friedenau fell into a state of dilapidation, an exception to this were the so called model streets such as the Husemann Strasse. Western tourists were shown only the better parts and streets of East Berlin on specially guided bus tours. After the fall of the Berlin Wall Friedenau experienced a land grab where many Wessies or West Germans mostly from the state of Schwaben in the South of Germany bought up huge tracts of real estate at dirt cheep prices, this created a lot of tension and resentment with the people from the East something that still exists today. There are 350 buildings in Friedenau that are today protected under the German Cultural Conservation Act Denkmalschutz. An interesting building to see is Germanys largest Synagogue built in 1904 in the Rykestrasse. This Synagogue was one of the least destroyed Synagogues during the war probably due to its close proximity to many German families. Not far from the synagogue is the Jewish cemetery in the Schoenhauser Allee with 23.000 graves including 770 Jewish families, the cemetery was opened in 1827 and is worth a visit. For discovering the fascinating history about Friedenau a visit to the Friedenau Museum in the Prenzlauer Allee is a must, the museum is open three days a week. All the walkways in Friedenau are all paved with cobblestones and sometimes you might see between the cobble stones a small polished bronze remembrance plaque. These remembrance plaques called Stolpersteine or Tripping-Stones (not their original intention) record the name of the person who lived in the house, their date of birth, deportation date and execution date by the Nazis. Friedenau is a colourful and fascinating part of Berlin, full of history and a suburb not to be missed, it is also the home of GoBerlin.com.
Friedenau covers an area of 10.995 hectares and of which there are 600 hectares of buildings and 5 hectares of factories. There are another 145 hectares of recreational space including parks, playing fields, playgrounds and stadiums with 314 hectares of highways, byways and commuter infrastructure including trains and trams. (This statistic does not include underground trains). Friedenau has no airport. There are 13 hectares of agricultural land currently in use. The makeup of the population is 6700 children under the age of six, 6300 children between the ages of 7 to 15 and 35,700 people between the ages of 15 to 30 years. There are 64,300 people between the ages of 30 to 60 years and 21,400 people over 60 years old. The average life expectancy for men is 77 years and for women 82 years. Friedenau has 11,000 school students and this is broken down into 29 schools, 16 primary schools, 7 high schools, 2 special schools and 4 Gymnasien which is the most academic type of German high school. On the work front there are 7000 small to medium sized companies mostly within the hospitality, retail and culture sectors. The main stay of enterprises are small scale business's employing between 3 to 10 people. The unemployment rate is currently at 10 %.

To Advertise on GoBerlin.com contact us at: Office@GoBerlin.com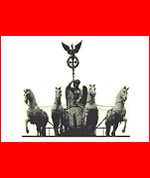 FRIEDENAU
Friedenau is one of Berlins best loved suburbs and attracts many thousands of tourists. Friedenau has a lively culture and artist scene and is a great place to start your Berlin adventure. GoBerlin has included some of Friedenau's best shops for you to visit while staying in Berlin. There's everything from Cafes to restaurants, mode to art and culture to shopping. GoBerlin has also listed for you the top links to hotels, hostels, services and events as well as sport, real estate, even some of Berlins best jewellery designers.